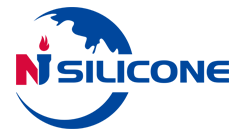 No.1, Donghuan 2nd St, Jitigang, Huangjiang
Dongguan, Guangdong, China, 523757
China
Overview
Key Contact Personnel:
Charles Wang, International Sales Manager sales@njsilicone.com
+86 186 8861 0625
Aidan Xu, General Manager customer@njsilicone.com
Year Founded: 2007
Total Number of Employees: 68
Number of Employees in Production: 35
Quality Certification: ISO9001: 2015; UL Yellow Card
Total Annual Sales: USD 12 mil
Major Export Markets Served (2019): Brazil, Mexico, Colombia, Italy, Germany, Sweden, Estonia, Russia, India, Indonesia.
Range of Products Offered: HTV silicone rubber materials, Fire-retardant silicone rubber, High-temperature silicone rubber, Roller silicone rubber.
Products
HTV Silicone Rubber Materials
Applying in insulation products such as composite insulators, surge arresters, bushings, cutouts, cable accessories, etc.
Testing Equipment
Tracking Erosion Test Equipment
Curemeter
Tensile Equipment, etc.