Aditya Birla Insulators
Key Contact Personnel:
Rohit Pathak, CEO & President rohit.pathak@adityabirla.com
Sanjeev Sachdev, CMO & Jt. President sanjeev.sachdev@adityabirla.com
Harleen S.Minhas, Asst.Vice President (Mktg) harleen.minhas@adityabirla.com
Tushar Balar, General Manager (Mktg) tushar.balar@adityabirla.com
Debashis Chakraborty,
Asst.Vice President (Mktg)debashis.chakraborty@adityabirla.com
Chandan Banerjee, Dy. Manager (Mktg) chandan.banerjee@adityabirla.com
Year Founded: 1967
Total Number of Employees: 3651
Quality Certification: ISO 9000 & 14001 & OHSAS 18001 (Both Plants) Rishra Plant: SA 8000
Total Annual Sales: More than USD 100 million
Percent of Sales in Export Markets: 30%
Major Export Markets Served (2019): Europe, United States, Africa, Asia Pacific, Middle East, Central & South America
Range of Products Offered: Electrical Insulators: Porcelain & Polymeric
Website: www.adityabirlainsulators.com
---
Insulators (Porcelain)
Suspension Disc-Type Insulators:
Normal, Open Profile, Semi fog, Anti fog & Super Fog Type; Mechanical Strength up to 420 kN for Voltage rating up to 1200 kV, Creepage Distance up to 690 mm, Applicable standard: IS, IEC, BS, ANSI & Australian Specifications.
Line Post Insulators:
Up to 145 kV, Creepage: 25&31 mm/kV as per IEC & ANSI Specifications.
Pin Type Insulators:
Up to 69 kV, Mechanical Strength: 10 kN, Creepage Distance: Up to 1080 mm, Applicable Standard: IS, IEC, BS, ANSI, AS and VDE Specifications.
Railway Insulators:
Up to 25 kV as per IS, IEC & RDSO Specifications.
Station Post Insulators:
Up to 1200 kV & Mechanical strength up to 20 kN and Capacitor Bank Support Insulators having Mechanical strength up to 45 kN as per IS, IEC and ANSI Specifications.
Hollow Insulators:
Up to 800 kV, Mechanical Strength up to 105 kNm for SF6 Circuit Breakers, Instrument Transformers, Condenser Bushings. Maximum height in one unit construction upto 2600 mm. Maximum diameter 775 mm.
---
Insulators (Polymeric)
Long-Rod Type Insulators: Up to 765 kV, mechanical strength up to 210 kN for creepage distance upto 31 mm/kV as per IS & IEC Specifications.
Annual Production Capacity: 400 KM per annum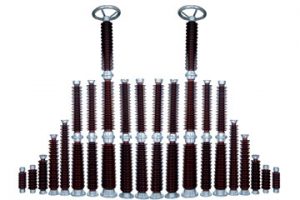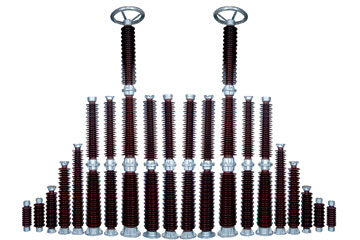 ---
Location of Manufacturing Plants:
P.O.Meghasar, Taluka: Halol, Dist. Panchmahals, Gujarat State 389330 INDIA
Telephone: +91 2676 221002
Telefax: +91 2676 223375
P.O.Prabhas Nagar, Rishra Dist. – Hooghly, West Bengal, 712249 INDIA
Telephone: +91 33 27623535, 26729413
Telefax: +91 33 26722705
Central Marketing Office – 604, OZONE Tower, Opp. Vadodara Central Mall, Sarabhai Compound, Vadi Wadi, Vadodara (Gujarat), Pin: 390007, INDIA
Telephone: (91) 265 2322940
Other Suppliers of Electrical Insulators